How to Measure 
GOLDEN WINGS HORSESHOES are designed to fit the capsule rather than a hoof rasped to fit a shoe.
Measure the hoof at the widest part, side to side. 
If the measurement is greater, order the next larger size.
The horseshoe will be rasped to fit.
| Measurement in Inches | Size in Millimeters |
| --- | --- |
| widest part of the hoof | order this size |
| 4 5/16 in | 110 mm |
| 4 1/2 in | 115 mm |
| 4 3/4 in | 120 mm |
| 5 in | 125 mm |
| 5 1/8 in | 130 mm |
| 5 5/16 in | 135 mm |
| 5 1/2 in | 140 mm |
Measurement & Metric Conversion
Golden Wings Horseshoes are sold internationally and therefore are sized in millimeters.
For the correct size, simply measure the width of the widest part of the hoof.
The chart below will help you convert the measurement into metric millimeters.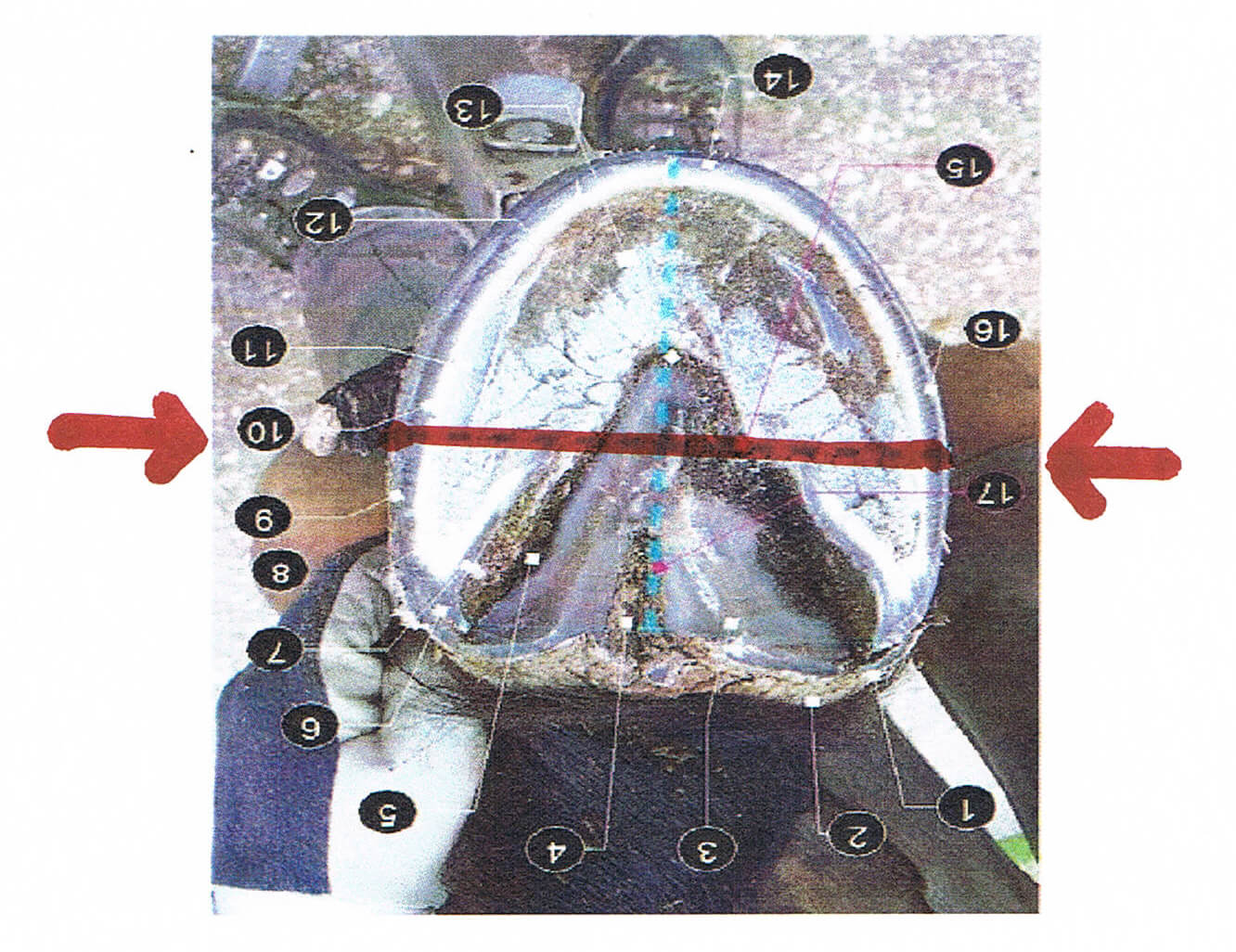 Suggestions/Recommendations
Breaking In New Shoes
Just as with your new hiking boots, there is a period of breaking in. New Golden Wings Horseshoes need a chance to break in as well.
Golden Wings Horseshoes recommends after your initial installation the shoes be worn by your horse for up to 10 days before putting extended pressure on the horse (rider, tack, trail riding, racing, etc.). You will see improvement in gait and movement very quickly. Resets only need trim and shod.
| ORDER TOTAL PAIR | MIX/MATCH SIZES PRICING |
| --- | --- |
| 1 – 3 PAIR | 24.77 + S & H* |
| 4 – 14 Pair | 19.77 – Free S & H* |
| 15 – 25 PAIR | 18.77 – Free S & H* |
| 26 + PAIR | 17.77 – Free S & H* |
Victory rolled nails are straight driving with a smooth finish and individually inspected for quality.
100% MONEY BACK - SATISFACTION GUARANTEE
If you are unsatisfied with your purchase from GOLDENWINGSHORSESHOES.COM for any reason, you have 60 days from the date of purchase to request full refund. You may return, (Limited to only one (1) worn or used and tried pair) to receive a refund to GOLDENWINGSHORSESHOES.COM. You may return (as defined below) product from GOLDENWINGSHORSESHOES.COM in accordance with the terms below. To qualify for a refund, all the following conditions must be met: A return authorization must be requested (contact us) within 60 days of your purchase date. We will provide the address to return the product with the authorization form. All other pairs, (Returned New Product/s within 60 days of your purchase date), must be new in the original packaging (not physically worn, broken or damaged). The return authorization number must be included along with your returned product.
****The Following conditions are NOT covered by our 100% SatisfactionGuarantee:
Laminitis, Navicular Syndrome, Previous Hoof Injuries and Club Foot Syndrome****
Still have questions about your return? Contact GOLDENWINGSHORSESHOES.COM customer service - 602.909-3144 – For "Golden Rule Service"
Additional terms and conditions: Shipping and handling charges, all other fees, and taxes paid (such as state, customs, or VAT) are not refundable. You are responsible for and must prepay all shipping charges and you assume the risk of loss or damage to the returned Product(s) while in transit back to GOLDENWINGSHORSESHOES.COM If you return Product/s (a) without a return authorization form or (b) without all complete pairs originally included with your purchase then GOLDENWINGSHORSESHOES.COM retains the right to refuse acceptance of such return or charge you a restocking fee of 15% of the original price of the New Product(s) or the retail value of the missing parts, whichever is higher.
GOLDENWINGSHORSESHOES.COM PRODUCT WARRANTY IS (0) ZERO.
Just the same as with ordinary horseshoes, GOLDENWINGSHORSESHOES.COM are sold (AS-IS) WITH NO INPLIED OR PERFORMANCE WARRANTY. GOLDENWINGSHORSESHOES.COM purchases are final and non-refundable.
GOLDENWINGSHORSESHOES.COM does not warrant that the operation of the Product will be uninterrupted or error-free.
ANY AND ALL ORDERS PLACED FOR GOLDENWINGSHORSESHOES. PROVIDES FOR and INCLUDES ACCEPTANCE OF AS-IS UPON RECEIPT PURCHASES. THERE ARE NO IMPLIED WARRANTIES (INCLUDING, WITHOUT LIMITATION, WARRANTIES OF MERCHANTABILITY AND FITNESS FOR A PARTICULAR PURPOSE). GOLDENWINGSHORSESHOES.COM SHALL NOT BE LIABLE FOR ANY INCIDENTAL, INDIRECT, SPECIAL, OR CONSEQUENTIAL DAMAGES, INCLUDING DEATH, DIABILITY, OR INJURY, and/or apply to damage or defects caused by (a) use, accident, abuse, misuse, mishandling, flood, fire, earthquake or other external causes; (c) normal wear and tear or aging of the Product such as discoloration or stretching; or (d) operating the Product.